Get paid faster with Accounts Receivable Automation.
Eliminate the pains of manual invoice processing with AI-powered data capture, touchless processing, and digital workflow capabilities.
Are lengthy cycles, lost invoices, errors or a lack of visibility preventing you from collecting receivables in a timely manner?
Our AR automation solution utilises the Esker Platform to solve these issues and more thanks to its AI-powered data capture, touchless processing, and digital workflow capabilities. Let us show you a simpler, more efficient and transparent way to manage cash collection.
Accelerate cash collection with Esker.
From credit management to cash application, Esker automates the areas of AR that matter most to your business.
Keep your credit risk under control.
Trust alone is not enough — businesses must keep a watchful eye on their credit risk. From customer onboarding to managing business relationships, Esker's comprehensive Credit Management solution streamlines the credit approval and risk monitoring process, helping businesses secure sales revenue.
Make collections smarter.​
Still having staff send out email reminders or account statements? Esker automates these repetitive tasks so your team can use their talent on more value-added tasks like recovering cash.
Esker centralises all post-sales data, documents and actions, giving users access to the same information and making easier to create and assign tasks to solve invoice-related issues.
Through real-time KPIs and AI, you'll get valuable insight on your performance along with the ability to create and share reports and expand the cash flow culture through your organisation.
Simplify payment for customers.
Payment doesn't have to be complicated. That's why Esker offers the most popular payment methods, including card payment (e.g., Visa®, Mastercard®, American Express®, etc.) and direct debit (e.g., ACH, SEPA, BACS, EFT, etc.) so your customers never have an excuse not to pay you. Esker also integrates with local and global payment processors like Stripe to offer you and your customers the best possible experience.
Accelerate Cash Application.
Why have a top-notch collections tool if payments can't even get allocated on time? Esker's Cash Application solution, supported by AI-recognition technology, accelerates the cash allocation process, ensuring your receivables are up to date and your AR team is always working efficiently and strategically.
Discover 7 tips for effectively managing accounts receivable in challenging times.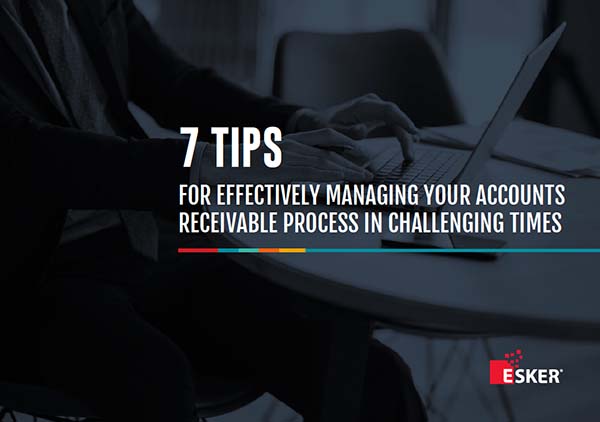 Download this eBook and learn how you can adapt your collections strategy during times of significant disruption and continue collecting cash, take care of your customers, empower your team, and come out on top.
Why manage your AR processes with Esker?
Instant visibility on all customer accounts, invoice statuses, actions and performance
Easier onboarding process and fewer IT resource requirements
Lower DSO (Days Sales Outstanding) and optimised working capital
Faster invoice related issues resolution (e.g., dispute, deductions, etc.)
Guaranteed compliance no matter your size, industry or location
Improved productivity, team morale and employee retention
'Walking the Talk' to Digitally Transform our own Business.
We are in the business of transforming companies sustainably and helping them compete in an increasingly digital environment. We uphold this business principle not just for our customers but also within Fuji Xerox Singapore.
Have a project you'd like to discuss?
Let's chat

+64 9 356 4200